The bulletin board is a community service if you would like to list your group ride run swim please send email to (Click to form and have them fill out a template that will come to my email with there phone number.) I will do my best to have your event listed 24 to 48 hours.
Anyone interested in off-road bicycling must visit Montauk's Hither Woods. Located at the western edge of the village, and running to the beginning of the Napeague Stretch, Hither Woods is over 3,000 acres of diverse oak woods, grass lands, walking dunes and sandy beaches. Hither Woods is a priceless natural resource, offering hikers and bikers year round access to unspoiled nature.
Montauk has lots to offer to the recreational rider. Montauk's roads are very bike friendly, wide shoulders and light traffic, how much better can it get? To answer my own question, much better and its all still in Montauk! From Montauk Bike Shop in the heart of the village you can rent a bike and take the Mecca to the point (11.4 round trip) passing the Deep Hollow Ranch the oldest cattle ranch in the US and not much more except lots of, trees, green, and ocean and Long Island sound views. With your ride out and back and some time at the point to visit the beach you can expect an hour and a half expedition. You can add some time and beauty to your journey by visiting Camp Hero and soak up some incredible views of the point, Turtles Cove, the cliffs, and of course some just plain old outstanding views of the ocean and beaches.
What do you say about going out on a century ride and never see a stoplight within a few hours of NYC? A dream, not possible? Come to Montauk and sample it for yourself. Even in the height of the season you can still go out for a road ride and find extended mileage with light traffic and no traffic lights! Picture a nice four mile warm up on wide shoulders through the heart of Hither Woods, turning off to a sparsely traveled back road surrounded by wetlands on both sides with views of a sparsely populated Napeague harbor. Then swing onto a road through the "Promised Land" a dune riddled wonderland heading into mature forest with a very expensive residential area nestled next to 1950's vintage summer escapes all again lightly populated and light on traffic, reaching the mid way at a beach that is never a crowed spot.
Montauk has lots to offer the Triathlon community. We have three of the most beautiful races in the northeast, here in Montauk. One sprint in July, one Olympic in June, and one Half Iron in October. The season opener for the north east is the Mighty Montauk Triathlon and is one of the oldest running triathlons in the country!
Montauk Bike Shop is in the business of providing fun in the sun for visitors from New York and around the world. We are located at the eastern most tip of Long Island's south shore, surrounded by water on three sides and in the middle of thousands of acres of park land with some of the most diversified ecosystems in the world, ­ and no traffic lights.
We carry a large selection of high quality Giant bikes for sale and rental including both full and front suspension mountain bikes, hybrid touring bikes, road bikes, tandems, kids bikes and trailers to suit your needs.
Montauk is world renowned for its history, beaches, boating, fishing and especially surfing. There is so much outdoor activity in Montauk that you are spoiled for choice, so come in and ask us about our tours, the local trails or just advice on what to do, we are more than happy to accommodate you.
The Montauk Bike Shop in conjuction with Tri-Gal.com, Tri-Guy.com, and Giant for Women is conducting a one day Women's Only Cycling Clinic Date
August 9th, 2010
Get away for the weekend and be immersed in the outdoors and everything cycling related for a few days. Feel the exhilaration of clearing that log that has always frightened you. Learn how to handle your bike properly and be more confident in shifting techniques. Learn safety, emergency repairs, and bike shop survival.
This one day clinic will highlight all the elements you need to ride a road bike.
Participants will learn bike handling skills, stopping, starting, cornering, jumping, clearing obstacles, and downhill and climbing techniques.
Ladies will be riding with other women and cycling coaches Christie O'Hara and Chris Pfund.
Learn bike safety, emergency repairs, and how to fix a flat.
Learn how to navigate a bike store, proper bike fit, figure out what accessories you need, and how to be comfortable in cycling clothing.
Gain confidence and lose intimidation.
Most importantly HAVE FUN!!
When:
Monday, August 9th. 9-5pm with a break for lunch.
Where:
The Montauk Bike Shop and surrounding area
Cost:
$95 for one day
Don't have a bike?
If you are in the market for buying a new bike, don't have your own, or simply don't want to bring your bike, don't worry we can help you out! You can rent a bike from us for $40 extra per day. We can provide a road or mountain bike for you, size you properly, and provide the type of pedals you like. If you are bringing your own bike please make sure it is in good working condition and safe for riding. If you are not sure, please bring it down to the Montauk Bike Shop for a checkover.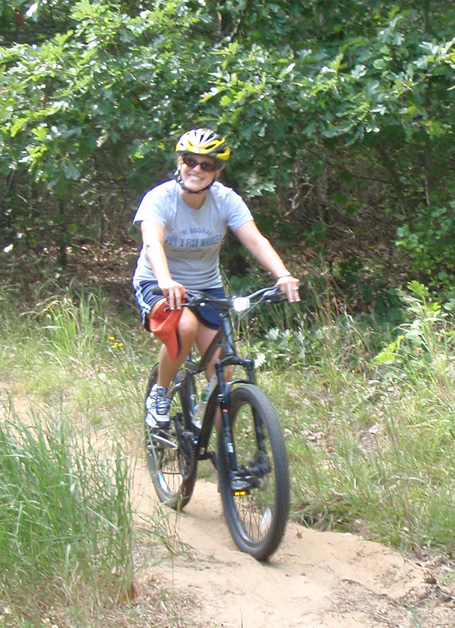 What about fitness?
This clinic is for all skill levels and our coaches are prepared to ride at all speeds. You don't need to have any miles under your legs, but you will need to be mentally prepared to learn all day! We will be lecturing as well as riding, so we recommend bringing a notepad to jot notes down.
Where will I sleep?
For suggestions on accommodations you can
click here
.
I'm ready, how do I sign up?!

You can register online by clicking here or you can sign up at the Montauk Bike Shop.
Space is limited so be sure to sign up early. Deadline for registering is tba.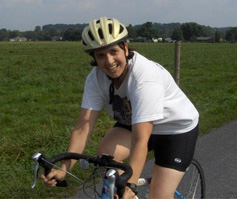 Also included: Special goodie bag, handouts, and other surprises!
Questions?
Contact christie@montaukbikeshop.com or call 631-668-8975
This bulletin board is provided for informational purposes only. Every person assumes their own responsibility for their fitness equipment schedule. None of these events are represented to be stations by, or the responsibility by Montauk Bike Shop or Tri-Guy.com nor any of its officers, staff or agents. Because these gatherings are at Montauk Bike Shop, Tri-Guy.com nor any of its officers or staff or agents have any control over the actual distances pace or time in any way.
Access the best of Hither Wood's nature with rambles through the dense oak and mountain laurel of Rod's Valley and Redmond's Path. At the Fort Pond Bay Overlook you can see the spectacular views of Culloden Point and Fort Pond Bay where the Amistad came ashore in 1839.
An other popular junket is the trip out to the dock aria (8 miles round trip) and a good choice for the younger members of your tribe. It is a very flat ride with a Ben and Jerry's pit stop at the halfway point with many other distractions like the home of Montauks fishing fleet. Always something coming in here. This is a couple of the main attractions but there are other rides of all distances. Stop in the shop and we can tell you were to go! Nicely of course!
These options for paths less traveled are surprisingly abundant and pleasurable to ride. Stop in the shop and we can set you up with our secret maps and still more secret routes. Try the roads less traveled. Ride Montauk! What, you don't feel like packing your bike. We can rent you a great ride. See our rental page for your choice in two wheel road steeds!
On the Coastal Trail, a narrow single track path which traverses Block Island Sound, you can immerse your feet into the warm waters of Lawsons beach and view Move on for the impressive view through "The Keyhole" a masterpiece notch carved out by the last ice age.
The Stephen Talkhouse Path, a narrow single-track trail which meanders in a rollercoaster fashion for about four miles along the north shore of Hither Woods. It passes the Indian House ruins believed to be the dwelling of Stephen Talkhouse Pond before culminating at the Nominicks Overlook, a vantage point with views of Napeague Harbor and Gardiners Island.
This is a brief description of what you will find waiting for your pleasure in 40 miles of trails. Montauk has undeniably the best off road riding on LI and is available with out permits 11 months out of the year. Come and visit, between the riding on and off road, world-class fishing, Championship golfing, beaches second to none, abundance of hotels and restaurants Montauk is the pace to come for fun! What don't feel like packing your bike we can rent you a great ride see our rental page for your choice in two wheel off-road steeds!