Group Tours - Hiking Tours
---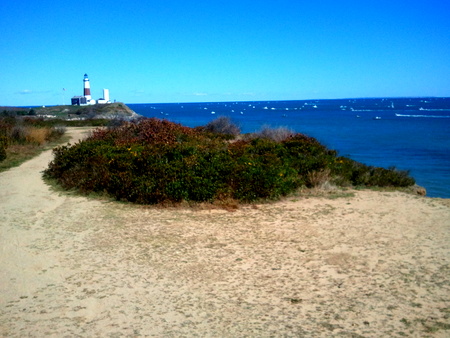 Tours are customized to your groups specific needs. Our hiking tours last from one and a half to two hours and involve the most striking vistas on the east end. Like our bike tours, we don't leave anyone behind and there is plenty of history, rumor, and hearsay to share along the way so that no one feels rushed.

Hiking tours take place in the Camp Hero and Montauk Point State Park. We coordinate ground transportation to and from the host hotel or bus company and supply powerbars and complimentary water and water bottles.

As a sample of what you will see as we hike: we start on the "Point Woods Trial" in Camp Hero and traverse through stands of twisted mountain laurel, holly, and shad. There are many wooden bridge stream crossings, with the errant glacial erratic fields passing a massive former 16" gun placement. Next we walk past the 35 radar tower (one of two ever built, the biggest of 1950's technology). We hike onward by another of the massive 16" gun placements and into the "Battery 113" trail with many more winding trails and wooden bridges culminating on the cliffs, overlooking the historic Montauk Lighthouse, the Atlantic Ocean, and Block Island. We finish the hike as we descend into Turtles Cove at the base of the lighthouse. Time permitting we can walk around the base of the lighthouse on boulders placed to prevent erosion. This ends our hike at which point we meet with ground transportation and ride back to civilization.
Optional Light House tour adds an hour depending of group size. Additional cost apon request.
---
For further information call 631.668.8975